Composting Machine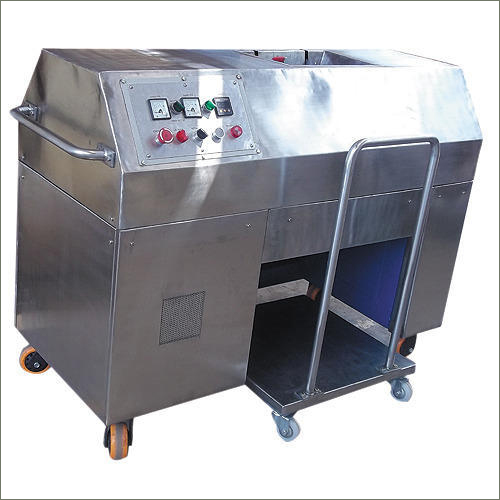 Composting Machine
Product Code : 01
Price And Quantity
Minimum Order Quantity
1 Piece
Price
250000 INR
Price Range
150000.00 - 1000000.00 INR
Product Specifications
Material
Mild Steel and Stainless Steel
Automatic Grade
Full Automatic
Capacity
30 Kg/hr
Power
440 Volt (v)
INTRODUCTION:
Rapid Organic Composter is a breakthrough in the field of organic waste treatment, is a product of engineering excellence based on the experience acquired over the many years in the field of organic waste management. Having identified the lacunae associated with various processes of organic waste disposal available across the globe, this process has been designed to be a compact, stable, efficient and economic one. All kinds of organic waste generated, including that from food/kitchen, poultry, cattle farm, fisheries, dairy farms and good processing units can be converted into high quality organic manure using this process.
The Process.
All kinds of organic waste generated is fed into the m/c An absorbent like sawdust or rice husk is added to control the moisture which should be ideally around 40%. Even dry fallen leaves can serve this purpose.
A specially designed biological culture Rapidcom is added to this waste in the proportion of 1 gram per kg. of organic waste to be treated.
The machine is run for 15 to 20 min. and the treated material is collected in the collection tray of the machine.
The treated material is shifted to the open area marked for composing, where it is made into heaps of 1m height and left for composting The inside Temp. of the heap steadily rises to 65-70C. due to the action of the thermophilic microbes.
The heap needs to be turned once in 4-5 days for better serration and water needs to be sprinkled if the material dries out on the outer layer.
The Composting action of the culture is complete in about 12 to 15 days. The treated material resembles wet mud and is free flowing powder. The material has to be screened using a mesh to remove any contaminants and obtain a material that is uniform in texture and particles size.
The End Product:-
The final product is a odor free flowing power that has a wet mud like appearance and is an excellent quality bio organic soil enricher. It is free from pathogens, seeds and the generally found slit normally associated with organic manure. Practical experience has shown that its catalytic effect and its ability to control the release of nutrients in fertilizer, can in appropriate condition , allow reductions in fertilizer usage of between 20 and 50% with resulting increases in crop yield of 5 to 30%. The end product offers excellent growth enhancing properties along with building a natural pest resistance and high yield.

Benefits Of The Process.
Compact process needs only 150 sq .ft. for operating the m/c.
Quick, treatment time in m/c takes only 15 min.
Garbage Denatured. The treated material is different in form; a wet mud like texture and color and totally free from foul odor.
Does not attract rodents, pests, birds and animals.
Safe to be stored in open.
Accelerated composting, the complete process takes about 7 to 10 days.
No costly additives, required sawdust/rice husk, uncoated shredded paper or dry leaves as absorbent to control moisture and a very low % of culture 1% approximately by weight.
No stringent monitoring required, the treated material needs to be turned once in 4 days for better aeration.
A very stable and rugged process does not get affected by variations in parameters like weather, temp. etc.
Reduction of volume/weight. Output roughly around 30% of waste treated.
The final product is a free flowing powder with wet mud like appearance and is odour free. It is excellent organic manure free from silt, weed seeds and pathogens.
Trade Information
Supply Ability
1.5 Piece Tons Per Day
Contact Details
CECON POLLUTECH SYSTEM PVT. LTD.
5 Kamta, Near Surender Nagar Gate, Faizabad Road, Lucknow - 227105, Uttar Pradesh, India
Phone :08037628316
Fax :91-522-2329891
Mr Ankur Chadha (Director-Marketing)
Mobile :08037628316
Quick Services